Equip Arizona
Grow your Reach-Grow Your Sales-Grow your Business
We know that local business owners are stretched increasingly thin as they adapt to the world of digital business, manage their online presence, and balance internal operations. What they need is the right tools at the right price that  empowers them to thrive in the digital world today. 
 Digital Marketing starts with
the customer journey

Your digital presence is the virtual front door of your business.
Every time a  potential customer approaches your digital doorway
they are looking for the answers to at least one of several questions.
Do you have what they're looking for?
Can they find you?
Can they trust you?
Is it easy to buy from you?
Will you appreciate their business?
Helping customers  find the answers to these questions and moving them along the customer journey is the essence of digital marketing. 
Wondering where to start?
Start with the parts of your online presence that will have  the most direct effect on how customers see you online.
Website
What makes an effective website?
Find our here
To be effective your website should
Be lightning fast
Look good on mobile
Be easy to navigate
Be accessible
Listings management
Why is listing important for your business?
Find out here
73% of consumers lose trust in a brand when an online listing shows incorrect information
4 out of 5 consumers use search to find local information like business address, hours, directions, and more.
There are hundreds of listing sites, most of them you haven't claimed, and may be inaccurate.  Google will lower your ranking if they find inaccurate information across the these sites.
Claiming and updating all these sites can take up to 300 hours a year.
Reputation Management
Why worry about your online reputation?
Find out here
91% of people trust reviews as much as personal recommendations
92% of buyers are more likely to purchase after reading a review
13% of people will buy from a business with a 1-2 star rating
94% of consumers say an online review has convinced them to avoid a business
89% of consumers read businesses' responses to reviews
Social Marketing
Why is social marketing important for your business?
Find out here
With social marketing you can
Find new customers
Engage with your followers
Educate and  inspire your customers
Get feedback from your customers
Wondering how you're doing?
Get a free Snapshot Report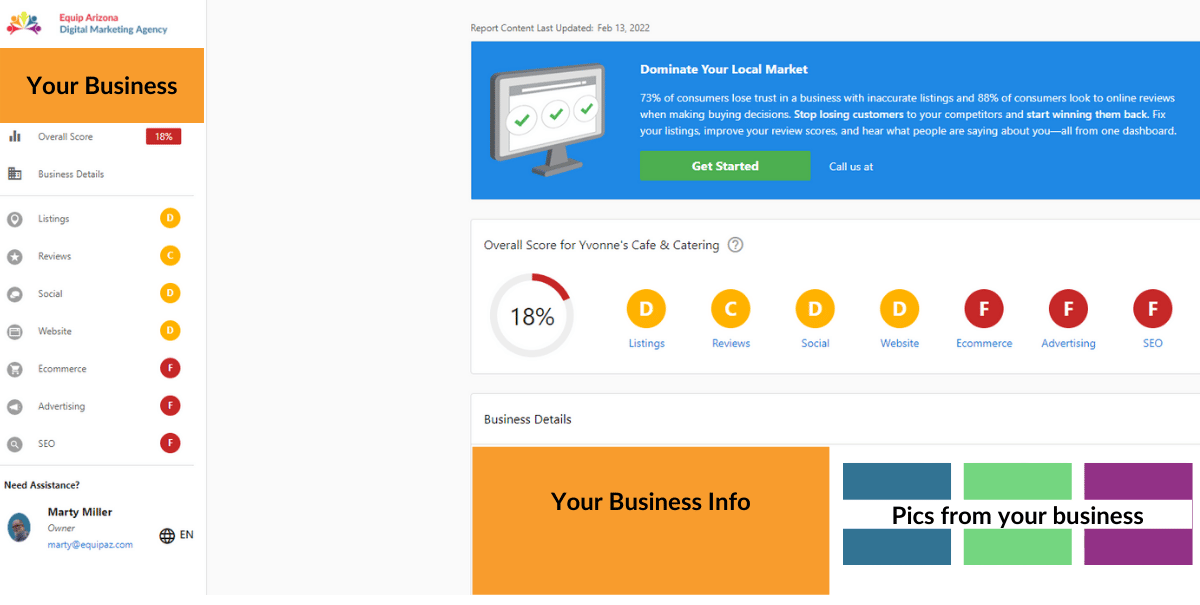 With your free Snapshot Report you'll learn
Overall how your business is doing online,
How many listings you have and whether they accurate.
The quantity and quality of online reviews.
How your social posting rank against your competitors.
If your website is e-commerce ready.
How effective your advertising is.
If your SEO is making it easy for customers to find you.